Interactive Whiteboards for Business and Education
When you need to work together – don't let distance come between you. 
Ricoh's high-quality Interactive Whiteboards (IWBs) encourage innovative collaboration anytime, anywhere, and with anyone. You can use IWBs to enable ideas to be shared right away and reduce work to produce meeting minutes, helping to maximize team performance.
Collaborate, share, edit and annotate in real-time, wherever you are:
The RICOH A Series helps you to reduce the number of tasks and work time by easy and quick whiteboard application and attractive options such as the RICOH Smooth Collaboration Service.
Hybrid work demands modern tools. Rich features like screen sharing images and annotations with remote locations lets team members collaborate as if they are in the same room. 
Ricoh's open architecture offers the ability to expand your IWB functionality to match your unique needs. We'll work with you to find the perfect configuration for your environment. 
Why Ricoh for Interactive Whiteboards?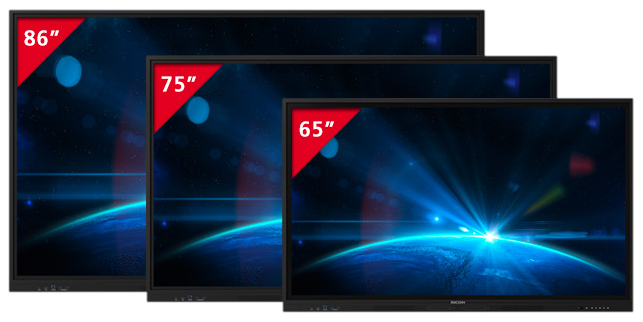 Ricoh A Series interactive whiteboards are available in 3 distinct sizes ranging from 65″ to 86″.